Richard's Organics Pet Calm effectively treats anxiety and short-term stress.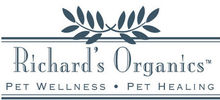 The Pet Food Market is proud to carry RICHARD'S ORGANICS in Bonita Springs, Florida. The medicinal properties of this herb's root are commonly used for anxiety, nervousness, excitability, depression, and poor sleep patterns. Valerian has also been known to help treat muscle and joint pain.
Products
ANTI-BACTERIAL SHAMPOO
DEODORIZING SHAMPOO
FLEA & TICK HOME & PET BEDDING SPRAY
FLEA AND TICK SHAMPOO
FLEA AND TICK SPRAY
FLEA PREMISE TREATMENT
INCREDIBLE SKIN SPRAY
LITTER DEODORIZER
MOISTURIZING SHAMPOO
NUTRIENT PASTE FOR CATS
Come visit our pet supply store in Bonita Springs, FL specializing in quality food, treats, and supplies for cats and dogs.